The CP Holiday Train is a nostalgic experience for holiday lovers all across North America. There's nothing quite like gathering with your community to watch an awe-inspiring travelling concert during the most beautiful time of the year. Now in its 24th year, we can't wait to welcome the enchanting train back to our province.
Aside from being an unforgettable experience, the CP Holiday Train raises money, food, and awareness for food banks and food shelves across the continent. There are two trains, one that travels exclusively in Canada and one that has stops in the U.S. The train that we will have the pleasure of experiencing in Alberta departed from Montreal on November 27th. It will finish its journey in the Greater Vancouver area on December 18th.
We're Back! Holiday Train 2022 from Canadian Pacific.
The first Alberta stop is on December 7th, and the last is on the 13th. So, it's time to mark those calendars and get ready to take in the CP Holiday Train magic. The performers that Albertans will get to witness are Tenille Townes, Aysanabee, MacKenzie Porter, and Virginia to Vegas, depending on the location. Here's the Albertan schedule:
Medicine Hat, Queen Street & North Railway Street, 2022-12-7, 3:00 PM arrival
Tilley, Southeast side of railway crossing at HWY 876, 2022-12-7, 5:15 PM arrival
Brooks, 1st Avenue, rear side of Civic bldg., 2022-12-7, 6:35 PM arrival
Gleichen, CP tracks at 3rd Avenue & Crowfoot Street, 2022-12-7, 8:35 PM arrival
Blackfalds, CP tracks at Greg Street between Broadway Avenue and East Avenue, 2022-12-8, 12:45 PM arrival
Lacombe, Len Thompson Fish Pond, 2022-12-8, 2:00 PM arrival
Ponoka, 50th Street and 47 Avenue, 2022-12-8, 3:45 PM arrival
Wetaskiwin, CP ES Building 4009 50th Street, 2022-12-8, 5:30 PM arrival
Millet, Pedestrian crossing, 50th Street & 48th Avenue, 2022-12-8, 6:50 PM arrival
Leduc CP tracks at 50 Avenue (main Street) and 47 Street 2022-12-8, 8:15 PM arrival
Josephburg, Moyer Recreational Center, 54596 Range Road 215, 2022-12-9, 5:00 PM arrival
Edmonton, South of the old Edmonton CP Station, 7935 Gateway Blvd., 2022-12-9. 8:00 PM arrival
Innisfail, 52 Avenue and 50 Street crossing, 2022-12-10, 1:15 PM arrival
Olds, 50th Street Level Crossing, 2022-12-10, 2:45 PM arrival
Didsbury, CP Mainline, 20th Street and 18th Avenue, 2022-12-10, 4:05 PM arrival
Airdrie, Nose Creek Park, Main Street, East side of CP tracks, 2022-12-10, 5:45 PM arrival
Calgary, Anderson C-Train Station - South C-train parking lot, 2022-12-11, 5:45 PM arrival
Cochrane, Behind Provincial Bldg between River Street & 4th Street, 2022-12-13, 2:45 arrival
Stoney Nakota, CP tracks adjacent to the Morley Gas Station, 2022-12-13, 4:15 PM arrival
Canmore, Railway pedestrian crossing behind Save on Foods, 2022-12-13, 5:45 PM arrival
Banff, Banff train station, 327 Railway Avenue, 2022-12-13, 7:00 PM arrival
Each show will begin 15 minutes after arrival and last for 30 minutes. You don't want to be late, because these windows are short (but totally worth it). If your stop lands in Medicine Hat, Calgary, or anywhere between, you'll be treated to a show by Tenille Townes and Aysanabee. If your stop is West of Calgary, you'll get to watch MacKenzie Porter and Virginia to Vegas.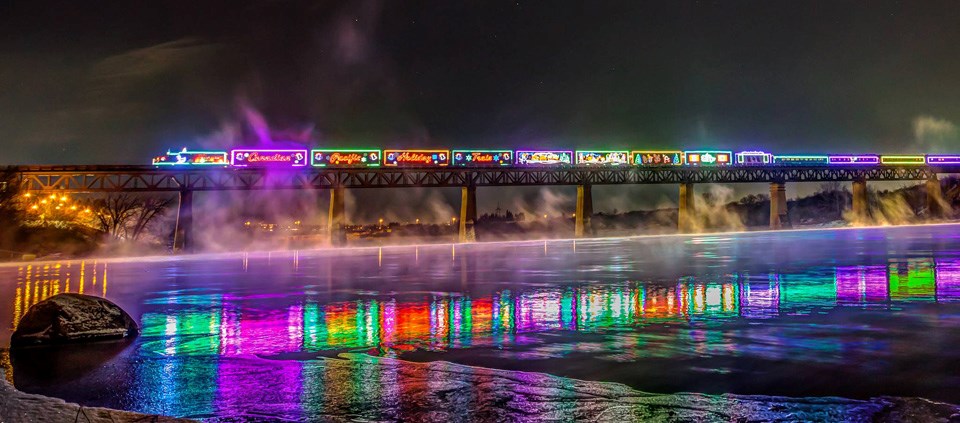 Throw your hot chocolate in a thermos, round up your warmest clothes, and head to your local stop for an unforgettable concert. We could not be more excited to welcome this wonderful tradition back!
Britanny Burr is a freelance writer and a contributor to Great West Media. This story was written for the 2022/23 Cool Winter Guide advertising feature. It is not written by and does not necessarily reflect the views of the editorial staff.