Hanging Christmas lights in October is ideal because it's still relatively warm out and your yard is not covered in snow and ice.
According to OHS Canada, ladders can be very dangerous. OHS points out common ladder mistakes (have you made any of these while trying to hang your Christmas lights?):
Overreaching, which causes you or you and the ladder to fall.
Standing on the very top rung (it is actually not designed to be stood upon) causing loss of balance.
Not having the right size of ladder and trying to overcompensate but placing it on something unstable.
Other common ladder mishaps include resting it alongside the gutter (which is slippery), misjudging the angle and ignoring the 3-point rule.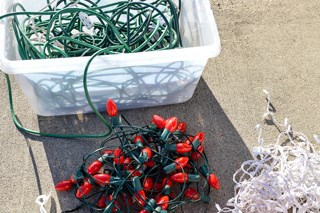 Now, take all those hazards above and think about using the ladder outdoors in the winter. Even if you stay off the top rung, you don't reach too far and you don't lean the ladder on the gutter, you still have to contend with snow, ice and your spotter having cold hands as they steady the ladder.
It's not worth it. Hang your Christmas lights in October before the snow flies. The ladder, driveway, sidewalk and rooftop will be warmer and drier – and most importantly, safer.
Those living in the Bow Valley area have an even better option to get those Christmas lights up. Call Peak Performance Painting and ask for their Christmas light installation service. Peak has the equipment and experience to light up homes and businesses in the Bow Valley. In addition to safely hanging lights, the team will make sure all the bulbs are in working order, pre-map the positions, ensure there are enough power sources, evenly space the strands and conceal the power cords as much as possible. After the season ends, Peak can return to remove the lights, or stop by mid-season for maintenance if required.
Being on a ladder can be dangerous, especially during the winter. Put your Christmas lights up now to reduce the chance of injury. If you live in the Bow Valley, call Peak Performance Painting to have them install your lights. Enjoy the season as safely as possible.
This story is brought to you by Great West Media Content Studio. It is not written by and does not necessarily reflect the views of the editorial staff.