We're not gatekeeping a single thing about this province. Today we're revealing some of the hidden gems around Alberta that visitors tend to miss. While some of these may be more well-known, they're certainly not the famous destinations that tend to be busy and maybe even a bit overrated. So, without further delay, here are some of Alberta's best-kept secrets that you need to check out ASAP.

Forgetmenot Pond
Located in Kananaskis, this enchanting little pond is one of the most serene places you can imagine. The water is crystal-clear and ice-cold (as you'd expect in Alberta). The surrounding area is lovely, with rolling hills and lush forests. Whether you're sitting with a book, paddle boarding on the water, or just taking a moment to relax in nature, this spot is perfect. You need to walk a bit to arrive at the pond, so prepare for a little stroll accessible for most visitors, including wheelchair users.
Beaver Boardwalk
If you haven't heard about this cool spot in Hinton, you might be upset that you didn't know about it sooner. This place is unique for many reasons. Recognized as the "world's longest freshwater boardwalk," this lovely wooden walkway will take you through forest, waterways, and a pretty busy wildlife hotspot where you're likely to see – you guessed it – a beaver. It spans over three kilometres and offers a front-row seat to birds, butterflies, deer, fish, flowers, and more. This unique place is spectacular in many ways and absolutely worth a visit.
Red Rock Coulee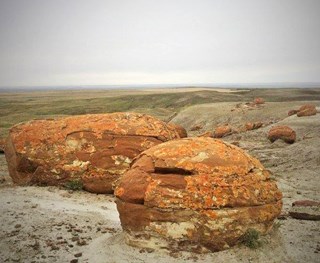 This place might make you feel like you've landed in outer space. Red Rock Coulee is located in southeast Alberta, about 50 km from Medicine Hat. It's a provincial natural area with massive red boulders, unlike anything you've seen before. There is a ton of hiking in the area and wildlife viewing if you're interested in spotting some jackrabbits, deer, snakes, and lizards (among other possible critters). The rocks themselves appear to be rusted, the deep orange-red colour jarring compared to the greys and browns we're used to in Alberta. If you're a geology buff, nature lover, or just someone looking for something new to do in Alberta, this is the place for you.
Salt Plains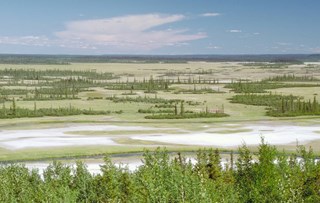 Did you know that Alberta has salt plains? In Wood Buffalo National Park in (very) Northern Alberta, you'll find a viewpoint of a crystalline stretch of land that spans over 370 square kilometres. The viewpoint is near Fort Smith, and if you're not sure what a salt plain is, you can expect to see bright white mounts of salt, some of which are said to be up to one metre in height. This is a genuinely wild place you won't believe exists in nature. You'll have to see it with your own eyes!
Medicine Lake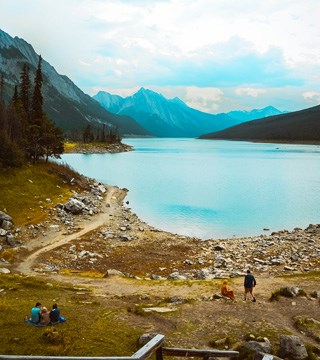 In Jasper National Park, Medicine Lake is known as the "disappearing lake." The beautiful, sparkling water can be seen in all its glory every summer, but the water disappears in the fall and winter. The lake drains into sinkholes and through a cave system during the colder months. How wild is that? Even without the magic of the seasonal disappearance, this lake is a true wonder. Stunning, magical, and a total must-see.
Britanny Burr is a freelance writer and a contributor to Great West Media. This story was written for the 2022 Hot Summer Guide advertising feature. It is not written by and does not necessarily reflect the views of the editorial staff.