WESTLOCK – The first big winter storm of the year, one that saw 15-20 centimetres of snow dumped on the area Nov. 16, was relatively quiet for Westlock RCMP.
While 80 collisions were reported to Edmonton Police Services between 5:30 a.m. and 4 p.m. Tuesday, a figure that including eight hit-and-runs and 14 property damage collisions in and around the city, Westlock RCMP Staff Sgt. Al Baird said they only attended "a handful" of fender benders locally. Road conditions across town and throughout the county were poor throughout the day as crews struggled to remove the snow, which due to the high winds had drifted up as high as two metres in spots. Meanwhile, many Pembina Hills School Division buses did not run as most rural roads were next to unpassable.
With winter now here, Baird said drivers need to reduce their speeds, allow extra time to reach their destinations and to be sure to travel with adequate fuel. Packing an emergency kit with extra winter clothing is also a good idea, he added.
"We didn't have any calls of any major collisions like they had around Edmonton with the jackknifed semis," said Baird. "But it is the season, so people need to take extra time and make sure they're prepared that if they do go off the road or are stuck on the road to have warm clothes and a cellphone. I also remember my dad telling me that in the wintertime never to let it go below half a tank because you never know when you're going to need it."
The snow has to go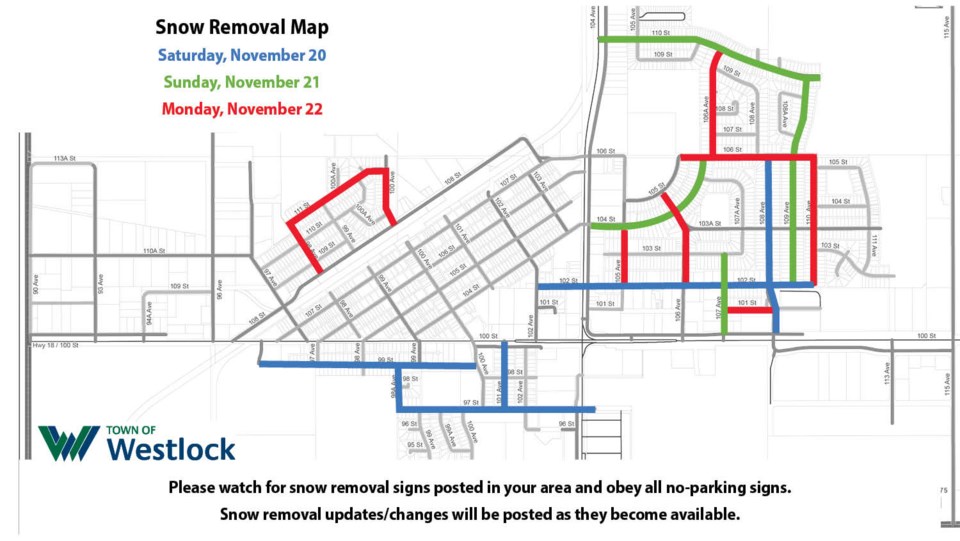 The town began its snow removal efforts that day clearing snow on all emergency routes and access points. Then starting at midnight, trucks moved to the downtown area picking up along 107th and 106th Streets and 100th Street (Main Street) from the north end of the street to 97th Avenue. The town asked residents to watch for snow removal signs posted in their area and to obey all no-parking signs — snow removal updates/changes will be posted on the town's website and via its social media channels.
According to its website, Westlock County aims to clear snow from all roadways within four to five days after the end of a major snowfall. The removal of snow from approaches and driveways will not be done until roadways have been cleared. Clearing of snow from county roads take place in this priority: arterial roads, school bus routes, commercial/Industrial haul routes, collector roads, hamlet roads, other local roads, roads to graveyards and community hall approaches and parking lots.