Here are three campgrounds in Alberta that are happy to welcome your pooch:
Kinbrook Island Provincial Park
Kinbrook Island Provincial Park, which is located south of Brooks just off of Highway 873, is home to an island campground with incredible views. Each campsite is shady, cool, and close to water. Enjoy hiking on the interpretive marsh trail, bird watching in the wetlands near the campground, boating, and fishing.
Dogs are welcomed at no additional fee and the campground has a dog walk area. Keep in mind that Alberta Provincial Parks have pet rules that requires dogs to be on leashes that are no more than two meters in length. Pets cannot be on public beaches, swimming areas, or in public buildings.
Kinbrook Island Campground has 185 year-round powered sites (15/30 amp) available for $39 per night during the summer and 14 un-serviced sites for $31 per night.
Twin Lakes Campground
Crimson Lake Provincial Park, near Rocky Mountain House, is home to pet-friendly Twin Lakes Campground. This campground is loved by fishing enthusiasts. Try your luck at catching trout or perch off of the wheelchair accessible pier or use the public boat launch.
This small campground has 39 un-serviced campsites available for $31 per night. It also has a group use area with a volleyball net and a picnic shelter. There are fish cleaning stations throughout the campground. Dogs are welcome, but you should make sure to follow the Provincial Park pet rules during your stay.
Please note that there is a water advisory in effect at this campground. Bring your own water to be safe.
The Hoodoo RV Resort and Campground
The Hoodoo RV Resort and Campground is known as Drumheller's campground. It is located 13 kilometres east of Drumheller on the Red Deer River. Amenities include two playgrounds, volleyball, soccer, coin laundry, and on-site sewer dumps. They welcome pets but be sure to ask about resort-specific rules for your pooch. This resort has extremely spacious full-service campsites (30 amp) for $45 per night.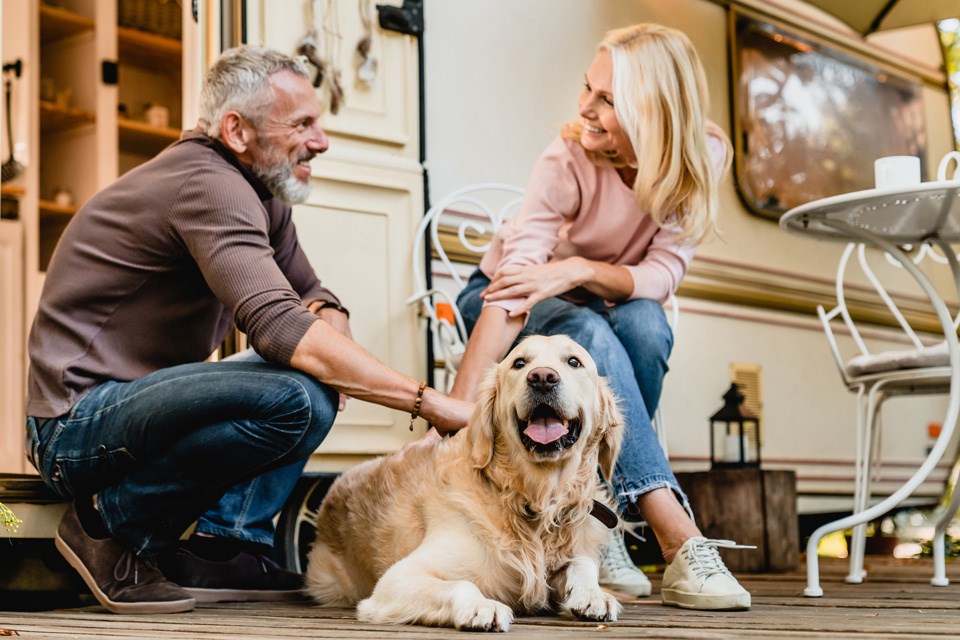 Tips for Camping with Your Pooch
There are a few things that you should remember when planning to bring your dog with you on your next camping trip:
Plan for doggy pit stops along the way so they can go to the bathroom and stretch their legs.
Clear a good spot for your dog's bed inside your RV.
Never let an animal (or human) ride in a trailer.
Don't forget to pack your dog's favourite toys, food, and bowls.
Know the pet rules for each campground you plan on visiting.
You know your dog best. If your dog loves going on outings and can keep up on a hike, then you both will probably love camping together. Have fun, stay safe, and enjoy a pet-friendly adventure in your RV!

This story was made possible by our Community Partners Program. Thank you RV City for helping to expand local news coverage in Alberta. Learn more.