The top of the list of winter activities in the area is ice fishing. For winter-loving anglers, RV camping combined with a great ice fishing trip can't be beat.
Ice Fishing Safety
Safety always comes first when RVing in the winter and that is especially true when ice fishing. The first thing to consider is the thickness of the ice. Some lakes will have markers indicating the safety of the ice and it is important to always follow the safety advisories. Use an auger to check the thickness of the ice before venturing out.
The Alberta Conservation Association has helpful guidelines for ice thickness. They recommend the following:
2" or 5 cm thick ice: KEEP OFF – this is not safe to walk on
6" or 15 cm thick ice: ice fishing and foot traffic only
10" or 25 cm thick ice: snowmobiles and light ATVs that are less than 500 kg
16" or 41 cm thick ice: mid-size cars and small trucks between 1000 kg and 2000 kg
18" or 46 cm thick ice: mid-size trucks between 2000 kg and 3000 kg
21.5" or 55cm thick ice: 3/4 ton 4x4 trucks up to 5000 kg
Alberta Conservation Association also notes that these recommendations can vary depending on the state of the water. Always be extremely cautious on ice. It is a good idea to carry ice picks that are designed to help individuals get themselves out of the water in case of an accidental plunge.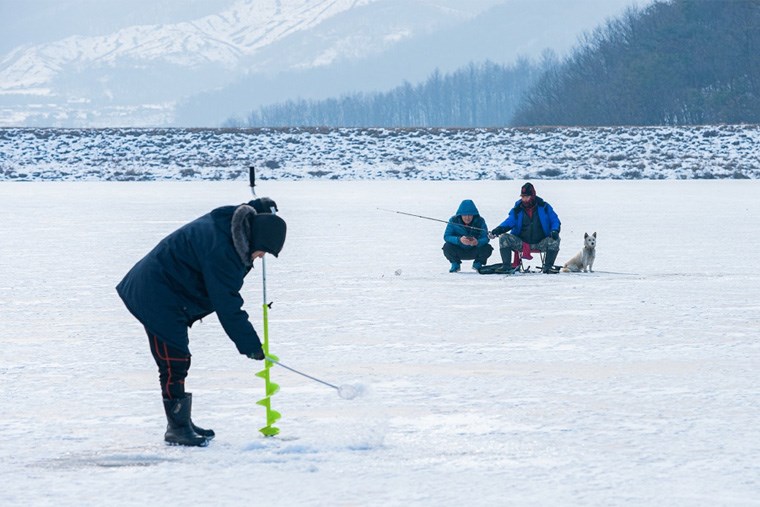 Winter Camping in the Lakeland Region
There are some great winter camping choices in the Lakeland Region that are close to incredible ice fishing spots.
Vermilion Campground in Vermilion Provincial Park offers year-round camping with easy access to the many area lakes that are perfect for ice fishing. Vermilion campground only has three winter sites and they are not reservable, so campers should plan accordingly.
Ice Fishing RVs
For those who are keen on ice fishing, an RV designed specifically for the job might be a good investment. Ice fishing RVs have fishing holes right in the floor that are covered when not in use. Imagine sitting comfortably in a toasty RV with all of the amenities while fishing from a comfortable couch. Amazing!
Before heading out on an ice fishing adventure, it is important that campers are well-prepared to safely handle the cold. Property insulate the RV before leaving, pack many layers of warm clothes, and enough water for the trip.
Above all, enjoy the beauty and fun of ice fishing and winter camping in the Lakeland Region.

This story was made possible by our
Community Partners Program
. Thank you
RV City
for helping to expand local news coverage in Alberta.
Learn more
.