The coldest months are the perfect times to snuggle up and look at fun destinations, cool RV accessories, and some simple DIY projects that will make your next camping trip in your RV even better than last year.
Planning New Destinations
It might be easy to always revisit your favourite campgrounds each year, but it could also be fun and exciting to check out some new areas. Canada has a huge variety of landscapes to discover. Take some time this winter to browse online the different campgrounds in some new areas of our beautiful country that you have yet to explore. You might even consider planning a longer distance RV camping road trip with a new destination each day or two.
To help you get the bookings at the campgrounds that you'd like to visit right here in Alberta, Alberta Parks has streamlined their booking system. Starting on January 11, 2022, all of their campgrounds can be booked year-round. Campsites can be booked up to 90 days in advance for individual sites or 180 days in advance for group sites. Be aware that the maximum number of consecutive nights in one booking has been reduced to 10 and you will need a separate reservation if you want to extend your stay.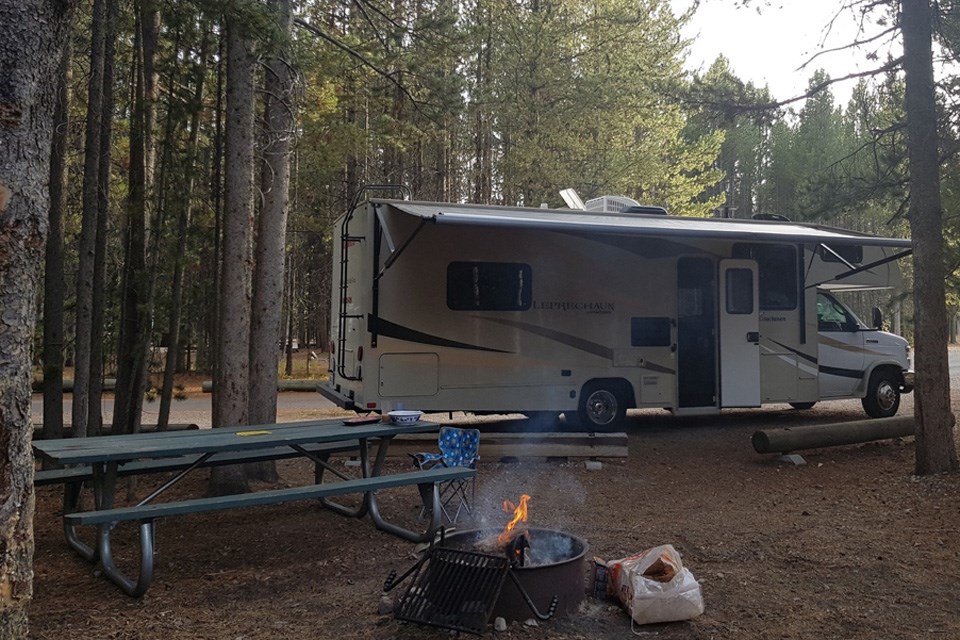 Check Out What's New and Cool at an RV Show
There's nothing quite like comfortably looking at RVs indoors during the coldest time of the year. RV shows are great places to escape the frigid temps and look at what's new in the world of RVs, RV accessories, and camping-related gear.
Alberta is home to three incredible RV shows:
The Calgary RV EXPO & Sale is at the BMO Centre from January 17th through 30th. - This RV show is CANCELLED due to COVID.
The Edmonton RV EXPO & Sale is at the Edmonton EXPO Centre from February 10th through 13th. - This RV show is CANCELLED due to COVID.
The Red Deer RV Show is at Westerner Park from February 18th through 21st.
Plan Some RV Upgrades
Almost every camping trip brings to light some small issues or inconveniences that you'd love to change about your camping setup. Winter is a great time to make a list of these small projects and plan how you will improve your RV for next season. Some things that you might want include on your list are:
Better organization – think about what was most inconvenient in your RV and plan some new storage solutions.
Improve the insulation – extend the season of your RV and improve comfort by adding some simple DIY insulation to windows, doors, and/or floor.
Reupholster furniture – if your upholstery is looking a little worn, you might want to start planning how you'd like to recover it. DIY sewing projects or a simple slipcover might freshen up the whole look of your RV.
This upcoming camping season, you'll be all set to go as soon as the weather changes. Let your imagination take you to warm summer nights, hot afternoons at the lake, and relaxing at the campground.

This story was made possible by our
Community Partners Program
. Thank you
RV City
for helping to expand local news coverage in Alberta.
Learn more
.