Here are a few tips to help keep warm during cold weather camping:
1) Winter skirting is one of the most important investments for RV owners who are planning on camping for the winter. RV skirting is made of insulated material that is fastens around the exterior of the rig. It is designed to keep the underbelly of any RV warm, including water tanks and pipes. Keeping the bottom of the RV warm also means the interior stays warmer as well.
2) Seal up drafty windows before the first winter camping trip. Using simple products like window shrink wrap and caulking to block out cold air can make a huge difference in the warmth of inside the RV. Even installing heavy fabric curtains can help to keep the cold air out.
3) Add extra insulation to the floor with thick rugs or carpeting. Not only does it help to keep the floor warm, but it adds a nice cozy atmosphere for winter camping.
4) Installing a vent cover will keep snow and rain from getting into the RV, but still allow proper ventilation. Ventilation is especially important in the winter when carbon monoxide is more likely to build up from portable heaters.
5) Stabilization jacks can easily freeze to the ground. To avoid this, place wooden blocks underneath each jack. Otherwise, RV owners will find themselves having to chip their jacks out of the ice at the end of the trip.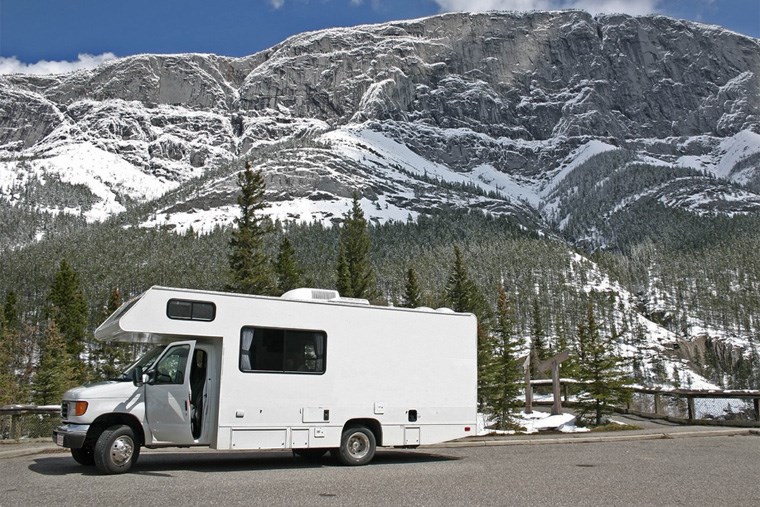 6) Space heaters add some extra warmth to the cabin, but make sure to choose a safe model. RV Life suggests choosing an oil-filled electric heater as a safe and effective option.
7) Take the opportunity to check safety devices. The change in season is a good time to change batteries in smoke detectors and carbon monoxide detectors. Test them to make sure they are working. Using space heaters can increase the risks from carbon monoxide and fire.
8) The air conditioner unit should be covered with a tightly fitting insulated cover to protect it during the winter and also keep cold air from entering the RV.
9) Watch out for condensation. Keeping an RV warm in the winter can cause high humidity. If excessive condensation starts to appear, a dehumidifier may be necessary to avoid mold growth.
10) Consider having upgraded insulation installed by a professional. For winter-loving RVers, it might be a worthwhile investment so they can enjoy camping through the entire winter season.
With the right amount of planning and preparation, winter RV camping can be a magical and peaceful experience. There are so many enjoyable winter activities around the province. Taking advantage of RVs throughout the year allows anyone to fully experience the beauty of Alberta's many different landscapes.

This story was made possible by our
Community Partners Program
. Thank you
RV City
for helping to expand local news coverage in Alberta.
Learn more
.