WESTLOCK - Westlock County councillors have received high marks from interim CAO Pat Vincent, netting a score of 68 out of 75 in a first-of-its-kind 'Council Report Card', while staff and councillors reciprocated, saying Vincent's "honesty, integrity, knowledge and calm demeanor" will be "missed immensely" when he leaves the organization in early August.
At their July 12 regular meeting, Vincent told councillors it's been a "distinct honour, privilege and pleasure" serving as interim CAO for the past five months and he took "the initiative and great liberty" to rate how he perceives council is operating via a 15-statement checklist which assigned a rating of zero (don't know) to five (strongly agree) for each — see the attached graphic for a list of the statements and ratings. Vincent came on board earlier this year after former CAO Kay Spiess, who had been hired in April 2021, went on an "unexpected" six-week leave following a four-hour-and-14-minute, councillors-only meeting Feb. 3. Spiess resigned March 7 and has since gone on to head Beaver County.
At the same July 12 council meeting, which will be the last for Vincent, councillors voted 6-0 to appoint Tony Kulbisky as Westlock County CAO starting Aug. 2, a hiring that had been announced May 25. Kulbisky, 57, will be the municipality's eighth CAO since 2000 and is signed to a six-year contract, details of which are expected to be released then.
"Up to today (July 12) you've been in office for 260 days and I joined the organization Feb. 10 and have been with you as of today for 153 days, so I've been with you 60 per cent of the time you've been in office. I think I have a fairly good experience in working with you and knowing and understanding this council as a whole and as individuals," Vincent said.
"I must say that the first meeting I had with council, there was tension in council chambers. And I've seen that disappear over the time I've worked with this council. And the respect that I see for one another … even where there's a disagreement, it's been very respectful. I think it's a much different atmosphere and I've seen growth."
Vincent said the report card wasn't meant to be "a comprehensive assessment" of council but "simply a tool to get a general impression of how you are doing" and was completed in the "spirit of building a stronger municipal organization." He added that it was shared publicly as part of "council's commitment to open and transparent governance."
The list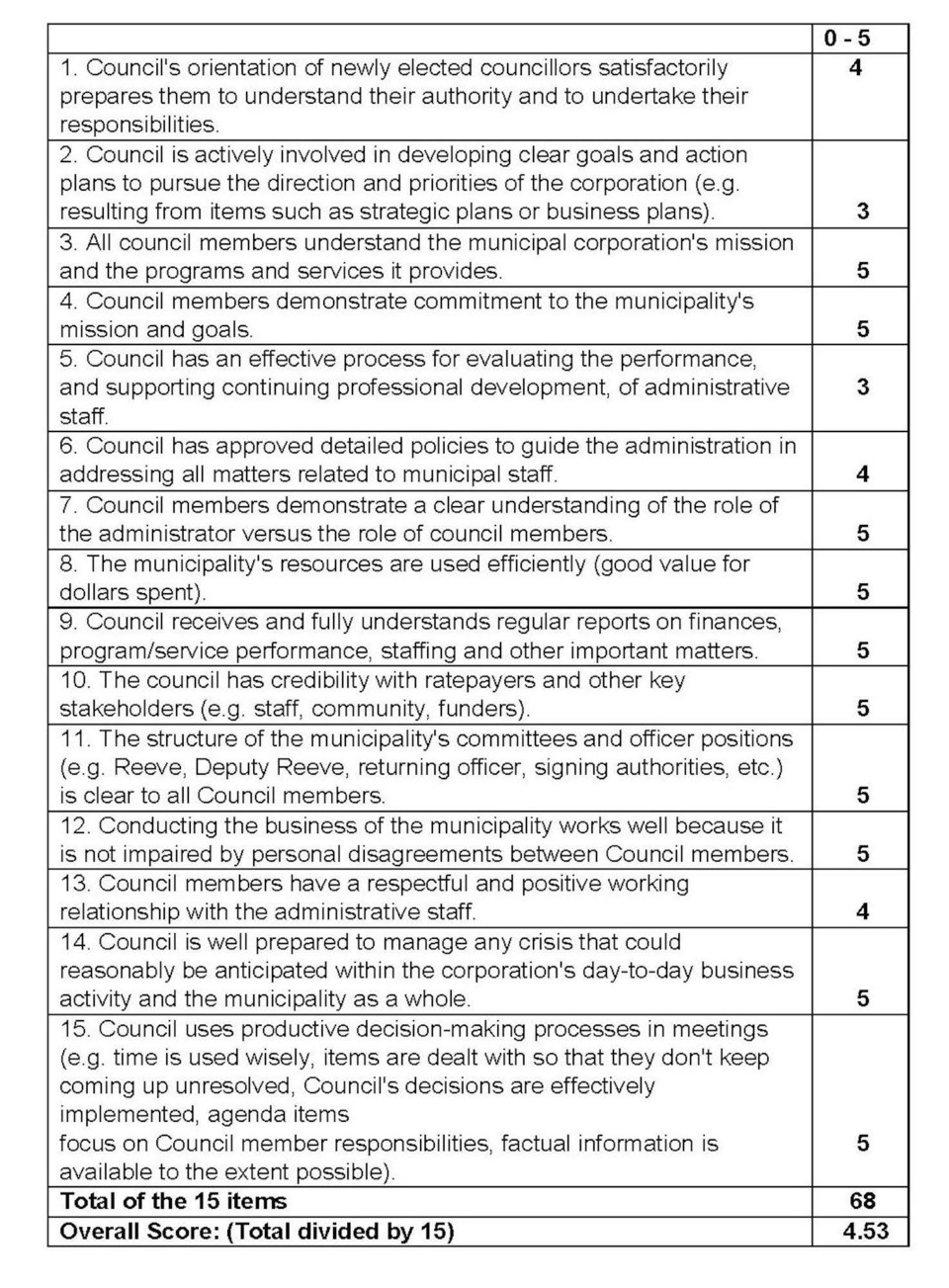 Ultimately, councillors received a perfect score of five on 10 of the statements ranging from their credibility with ratepayers, to their understanding of financial and other reports, then scored a four on trio of the statements which included things like the relationship between council and admin. Finally, they received a grade of three on two of the statements for a total of 68 out of 75, or an average of 4.53.
"It's not failures, but opportunities for growth and improvement that I would point out," Vincent said, noting as a critique that the new councillors should lean more on deputy reeve Ray Marquette and councillors Jared Stitsen and Isaac Sukban who have past experience.
Vincent said he hopes the report will highlight where additional attention is required "to support a strong and stable environment for conducting the municipality's business."
"The comment I even heard at breakfast from a panel they call 'The Senate' over at the Westlock Inn where I have breakfast every morning is that this is a much different council than the ones before and I take that as a compliment and a vote of confidence for this particular council," Vincent added.
Reeve Christine Wiese said she appreciated the feedback and admitted there's "room to grow for myself, definitely 100 per cent."
"Having this feedback from somebody who's been in the game a long time and what you've presented to us here, it is appreciated and makes us feel good. I appreciate your comments," said Wiese.
"I think there's a lot of room for improvement, but we can only go up from here. And it's nice to see from your perspective that we're headed in the right direction," added Skuban. "I'm really looking forward to coming to council meetings more than I ever had and am looking forward to the next three years."
Vincent also gets high grades
Councillors and staff also provided feedback on Vincent's tenure, with most giving him a ranking three or four out of five on a short, seven-question CAO performance evaluation questionnaire — the majority of low rankings appear on questions staff felt Vincent could not address as the interim CAO.
Coun. Sherri Provencal admitted council got off to a "rocky start" and she felt intimidated during her opening months in office, but Vincent's "honesty, integrity, knowledge and calm demeanor" helped not only her, but steadied the organization. Councillors also presented Vincent with a gift bag and plaque and thanked him for the professionalism he brought to the table.
"I'm very, very grateful that you were here for us," said Provencal.
Vincent, who counts 46 years of municipal government experience and most recently served as CAO of Parkland County from August 2007 until he officially retired Jan. 1, 2015, is being paid $159 per hour, plus expenses like mileage, meals and hotel accommodations.
"The best compliment I can pay you this, I think the return on the investment we made by having you as our interim CAO will bring benefits for many, many years," added Coun. Stuart Fox-Robinson.