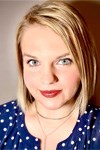 Opening a new business in the midst of a viral pandemic is an achievement very few can claim, but that's exactly what Dr. Alyssia Strandlund at Compass Chiropractic in Athabasca did last November.
Since then, Compass Chiropractic has provided chiropractic services to individuals of all ages. She loves seeing the whole family come in to the clinic at 4916B 50th St. where she can provide help to relieve pain and improve function to achieve their wellness goals and stay healthier so they can continue to do the things they love.
Strandlund encourages other women to go after what they want, no matter how difficult it may seem.
"This past year has been a rollercoaster, with a lot of lows, but even more successes. Starting a new business is incredibly difficult, but it is 100 per cent worth going after what you want."