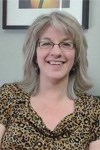 Everyone is entitled to a little peace and joy in their lives, and counsellor Jackie Shank and Taking Care Counselling & Consulting Ltd. can help you achieve just that.
As a registered social worker with a Master's Degree in Counselling Psychology, Shank has been providing confidential counselling services to the Athabasca area for 12 years, using her 27 years of experience to offer a holistic approach to solution-focused therapy, cognitive behavioural therapy (CBT), client-centred therapy, systems therapy and treatment group therapy.
Located in the Coles Street Professional Building at 4919-51st in Athabasca, Taking Care Counselling & Consulting Ltd. provides counselling services on a variety of issues including anxiety, depression, relationships and couples' communication, workplace stress, family of origin issues, adult survivors of sexual violence, trauma, grief and loss.
Shank is also an accomplished presenter on various topics including personal/professional self-care, anxiety, depression, post-traumatic stress disorder, resiliency, anger management, stress in the workplace, and understanding the effects of grief and trauma. As a certified trainer she also facilitates workshops on Suicide Prevention (ASIST) and Colours Spectrums Personalities Identification.
"Sometimes people lose sight of their own personal power and counselling can provide the opportunity to find hope in your own life," she said.
As an entrepreneur who was born and raised in Athabasca, she takes pride in her community and works to see it prosper and has been involved in numerous community groups and organizations over the years — the Athabasca District Chamber of Commerce, St. Gabriel's Catholic Church Parish Council, Parent Council Committees for Aspen View Public Schools, Athabasca Santa's Anonymous and Healthy Families, Healthy Futures, to name just a few.
That connection to the community is among her greatest achievements in business, Shank says. Working in private business provides the flexibility to work in a creative and independent way, while meeting the needs of clients and community.
"If you love what you do and believe in it then private business is the greatest opportunity," Shank says. "The biggest advice I have for female entrepreneurs is that you must be prepared to share your business through community connections and share your knowledge with others. Do not worry about what other people are doing, but rather focus on your own direction and invite positive opportunity into your own life, your family, and your future!"