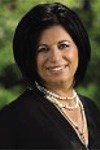 Shahira Bury says deep down she loves to help people … it's undoubtedly one of the reasons why she's been a successful real estate agent for 23 years
And when it comes to encouraging more women to get into business for themselves her advice is equally straightforward. Last year on top of her already crazy schedule she started coaching and training other agents from across the country as she loves helping others succeed and lives by the words, 'We get by giving.'
"Don't hold yourself back," said Shahira, a real estate agent with Athabasca's Royal LePage County Realty. "Be open to learn from constructive criticism, but don't take criticism from people you would never go to for advice. And most importantly, you are never too old, or too successful to stop learning.
"I consider myself very lucky to have been mentored/trained by some of the best in the business and that is what I credit my success to … that and my inner desire to help others. That is why I love what I do."
Shahira says her greatest achievement is the fact that over 90 per cent of her business comes from repeat and referrals. If people aren't happy with the work you've done for them, they generally don't call back.
"In my industry having that level of support from your clients is the greatest accomplishment we can achieve," she said.
"Some of my other accomplishments are being a Top Tier member of my company over the past decade. I have held top two to three per cent status for my sales achievements within Royal Lepage Canada and last year I placed fourth of the Top 10 RLP agents in Alberta. I was very proud of that accomplishment."