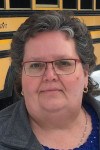 Yvonne Cumbleton of Y.C. Charter in Athabasca has provided bus service for Aspen View Public Schools, summer programs with the Multiplex and Athabasca County, outings with seniors, trips for dinner theatres, weddings, family reunions, U of A camping trips and more for 33 years.
Cumbleton built a thriving business keeping passengers of all ages safe while overcoming stereotypes for owning a non-traditional business.
"Always hire good people to work with you. Your employees can make or break your company and I always tell people the only reason I am successful is because of the people I work with," Cumbleton said.