WESTLOCK - David Truckey's 17-year career as a Town of Westlock councillor, a run that encompassed some of the community's momentous infrastructure projects, will come to an end this fall.
The 55-year-old businessman, always a moderate voice at the council table during his five-term run which began in 2004, said the time is right to close this chapter of his life. Truckey joins council incumbents Clem Fagnan (21 years) and John Shoemaker (eight years) who are bidding adieu this fall.
"It's just time for a break. I'm just so busy with work right now and it's a bit of a juggle and I want to be able to do a proper job," said Truckey Sept. 9. "I've certainly enjoyed my time on council. Have we always agreed on every decision? No. But at the end of the day when the decision was made council always supported that decision and supported each other, which was really important. I think we've been fortunate that we've had councils that have gotten along for the betterment of the community."
And while Truckey's name won't be on the ballot this fall, he's certainly not ruling out a return to politics down the road.
"I'm still relatively young. Really this is a break for me and I suspect I will be back at some point in the future," he said. "I'll probably even tune in from time to time on Monday nights just to see what's going on and keep an eye on things."
Truckey thanked his council colleagues, town staff, former mayor Bruce Lennon and current mayor Ralph Leriger, while saving a special bouquet for former mayor Shirley Morie, who he never actually served alongside. He also said that without his staff at Apollo and DQ "stepping in for me on many, many occasions" he never would have been able to serve.
"I've had five great councils, but I've had three wonderful mayors with Ralph for the last two terms and Bruce three terms before that. But when I started out I was very green and completely lost and I would go and sit with mayor Shirley Morie and she would help me along. She's one person I really wanted to thank because she not only inspired me, but educated me on what my role as councillor was," he said.
And of course with the continued support of his wife Sandra and now grown children Stephanie, 26, and Jonathan, 24, none of it would have been possible.
"My family has stood beside me all the way through. I've missed hockey tournaments and birthdays to be part of the council team for the betterment of the community. For that I'm so grateful to my family as they've always been so understanding," he said.
Community always at the forefront
Truckey has always been an unabashed community booster, whether donating his personal time or money to projects, while serving on a variety of community boards as a councillor and a citizen.
His partial resume includes two, one-year terms as the Westlock Rotary Club president, as well as a stint as a Pembina Hills School Division trustee. He even dipped his toes into federal and provincial politics in the early part of the century.
His interest in municipal politics, and more specifically giving back to the community, is a trait he picked up from parents as his father Clarence served as a town councillor for three terms in the late 1970s into the 1980s, while his grandfather Andrew also served as a Lac Ste Anne councillor.
"And my uncle on my mom's side was the MP for Battle River in the early 1970s, so you could say I come from a family that has political leanings. Both my parents were community-minded people when they came to Westlock and felt that it was part of their responsibility as citizens," he said. "It's about being a part of the community. That's always been important to me and important to my family."
Projects that have defined Westlock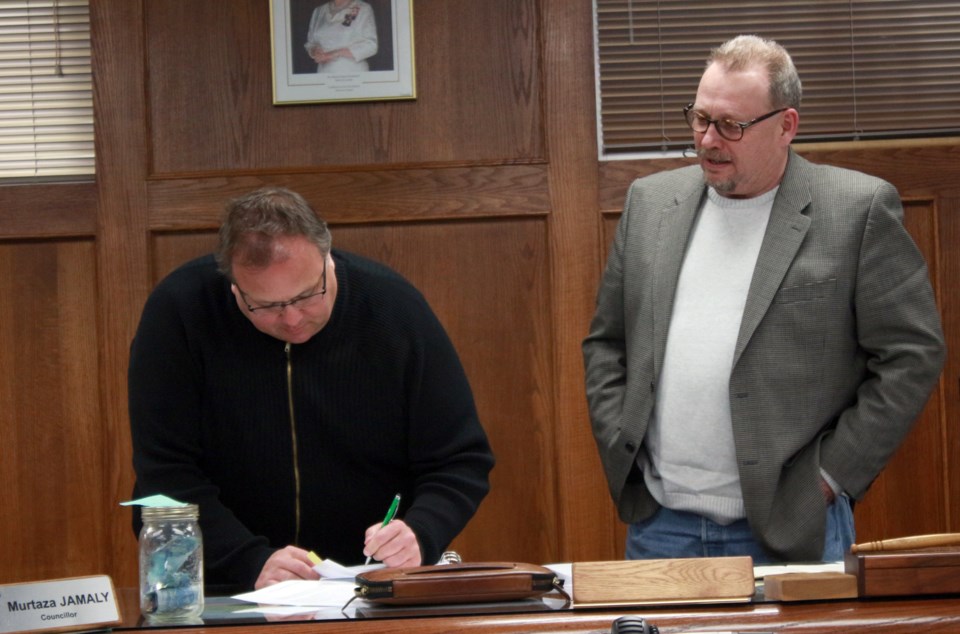 The town has grown leaps and bounds over the past 17 years and during that time there's been a plethora of huge projects including the $19.7 million Rotary Spirit Centre and the $5.1 million Westlock Place, just to name a few.
Truckey, who also pointed to the development of the Aspendale subdivision as well as the East Industrial Park as big steps forward for the community, said the one that will always be near and dear to him is the $15-million-plus Smithfield Lodge expansion in 2012. Then head of the Westlock Foundation, Truckey said the 68-unit expansion continues to be one the community's jewels and was the final, major project completed before the merging of the Westlock and Sturgeon foundations to create Homeland Housing.
"The community has grown so much over a relatively short period of time. There's been a lot of change in our town and I'm not sure people always notice it," he said. "Our business community has also grown. Shirley Morie once said to me that it's a great big world out there and Westlock is a great place to call home."
Looking forward Truckey said he would have liked to have seen the $7.3-million 108th Street reconstruction project and $4.368 million west industrial stormwater project, which is a direct response to the August 2016 flood, completed during his time on council, but is satisfied knowing they're almost done.
"Incumbents will quite often say and rightly so, that there are projects that they haven't finished that they would have liked to have seen done and certainly there are some that I haven't finished as part of the council team," he continued. "But I have complete confidence in our mayor and the upcoming council that they will carry on."
Truckey is also hopeful that following years of détente, the improved relations with Westlock County and Village of Clyde will continue.
"Our relationship with our neighbouring municipal partners has changed and improved a lot and some of it quite recently. When we did the last recreation agreement it was a difficult negotiation, but people came out of it with a better understanding on both sides. That's a positive."
Connecting with the people
And while the big infrastructure projects are ones most will remember, it's the personal connections he was able to make with residents that stand out in his memory.
Truckey recalled an incident following a snowstorm when an elderly woman, whose husband's health was poor, phoned him and asked for help getting her back alley cleared.
"She asked me to call the town office as she wasn't comfortable doing that so I picked up the phone and called the town manager and within 45 minutes the grader, the dump truck, the backhoe and the public works crew was there to make sure that that lady's alley was clear so she could take her husband to the doctor when she needed to," he recalled. "And that's the one of the things that's stuck with me along the way is that in a small community your municipality can react very quickly to the needs of the people.
"And I don't ever want to see that go away. It's an important element of how we are in a small town. Council's job is the role of governance, but from time to time you obviously need to advocate for your citizens. That's the nature of the job."