If you haven't gotten your tickets to Canadian Country Christmas in Perryvale Nov. 24 you better get them soon. 
Alberta native Adam Gregory was 13 when he landed his first record deal and released his first album, The Way I Am, in 2000 at 15 years old. He went on to win the Prairie Music Award for Outstanding Country Music Recording in 2001, and the Canadian Radio Music Award for Best New Country Artist for his song "Horseshoes." 
Gregory is now joining fellow award-winning country music stars Duane Steele, Thomas Wade and Sean Hogan for the Canadian Country Christmas Tour that is stopping in Perryvale. 
Gregory is no stranger to philanthropy having been a supporter of the Telemiracle for many years, holding charities for the Ronald McDonald House, Make-a-Wish Foundation and performing in West Edmonton Mall in 2005 to help raise money for the Canadian Red Cross to donate to the South Asia tsunami fund. 
"This is my second year in a row," Gregory said on the phone from Arizona. "So, I'm really thrilled about it." 
He had run into Hogan backstage at the Big Valley Jamboree a few years ago and even though Gregory could not join the tour then, he was able to the following year.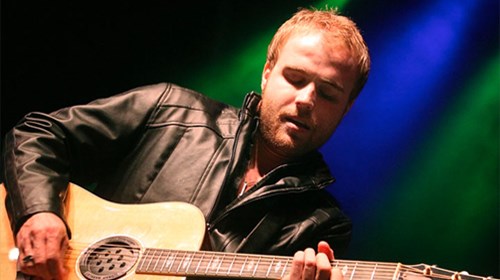 Canadian country music artist Adam Gregory.
"I've heard great stuff about it, and what it stands for, so I went in with them last year," he explained. "We went to three or four different provinces and hit little towns along the way. It was a great, great experience." 
Gregory will be performing songs from this fifth album, Perfect World, that was released in 2018 and includes his latest single "Running" that is charting with Sirius XM 171. 
"I have to give kudos to Sean Hogan who steers this whole tour he's probably scheduling halfway through the year for the coming year," Gregory stated. "I can't imagine; I'm busy enough doing my own thing let alone manning a ship with all this stuff." 
Gregory will be returning from Arizona Nov. 20 and kicking off the tour in Didsbury Nov. 22 with Hogan. 
In 2005 the Saskatchewan Country Music Association named Sean Hogan Humanitarian of the Year. 
Hogan had written a tune called "It's Christmas Time" and while performing it at the CCMAs in Edmonton in 2004 it struck him that the songs lines were structured in a way that it would be easy for multiple singers to each sing a line of the song. 
"One of my favourite projects I ever heard was the British group Band Aid, which was a composite of all these British pop singers singing for famine relief and at the time, it was kind of unprecedented; it was a really great thing in '84," Hogan said from his Ontario home. "And I thought, well, maybe we could help out food banks and communities in Canada." 
Hogan reached out to artists like Duane Steele, Jamie Warren, Diane Chase, Gord Bamford and Brad Johner to record the song which became the springboard for the Canadian Country Christmas Tour. 
"Nobody was going to small towns, like really small towns," Hogan explained. "And I thought small towns quite often have radio stations that have been really supportive of our music, so it would be nice to give back to them. 
I thought wouldn't it be fun to go out to some of the towns that maybe this song would play in and do some good shows, beneficial type shows." 
The tour has raised over a quarter of a million dollars for dozens of charities, mostly local food banks, but has also helped hospital foundations, Rotary Clubs, and United Way and Canadian Legion in towns across Canada. 
Hogan may be old hat at organizing the tour now, but in 2011 he was getting sick and by the time the tour started he was diagnosed with Stage 4 cancer and was undergoing radiation and chemo. 
"Duane (Steele) took over the tour in 2011 and I was really moved that they did the tour for me," Hogan said. "I was very grateful and lucky to bounce back and be proclaimed cancer free in March of 2012." 
Hogan recalls playing in Perryvale last year and the blizzard that tried to stop the show but did little to prevent people from turning up. 
"It was a massive blizzard, like one of the worst that you can imagine for quick accumulation of snow and visibility being poor," he recounted. "So, they might have they might have gotten another 10 to 20 people in that hall if the weather hadn't been like that." 
Hogan will be trying out some new music on this tour in preparation for his seventh studio album set to be released in January. 
The album is called 7 Come 11 and will be his first album of new material since beating cancer. 
Denis Meunier, one of the organizers for the event said only 200 tickets have been printed for the concert and he expects them to sell out. 
"I really, really encourage people to get their tickets ahead," he said. "It's a pretty big show for a little community." 
Money raised from this event will go back to the Perryvale Community Hall Society. 
Tickets are $45, with 10 and under free, for the entertainment from four award winning country music artists and a traditional Christmas meal cooked by the Perryvale Ladies Club. 
You can save your seat at Buy-Low in either Athabasca or Boyle, Value Drug Mart, Perryvale Store or the Westlock Inn & Conference Centre.