WESTLOCK – Although they weren't able to net a victory at their six-team home tournament played over the weekend, R.F. Staples School's (RFS) senior boys basketball team showed signs of improvement which is a win for the young squad.
First-year head coach Randy Pidsadowski said he was encouraged by his club's steady growth over the course of their three games Jan. 13-14 against Devon's John Maland High School Wildcats, the Parkland Composite High School Pacers from Edson and the Morinville Community High School Wolves.
The club counts only one Grade 12 on the roster along with two Grade 11s and eight Grade 10s and through two tournaments in early December, the T-Birds managed to grab one win at the Louis St. Laurent Catholic School Tournament Dec. 16-17 where they finished fourth.
"We scored more points in every game we played this past weekend … I don't have the exact scores, but we got 35 in the first game and 49 in the second and almost 60 points by the third, so we progressively got better which was encouraging," said Pidsadowski. "We're still missing a lot of easy baskets, but I think we're finally starting to gel and play together and trust each other and communicate on offence and defence. We have a long way to go for sure, but they're playing much better."
The boys will stay busy over the next couple of months with their next tournament slated for Feb. 3-4 in Morinville, which is also the site of the 3A North Central Zone Championships March 10-11.
"The more time they spend together practicing and playing, the better they're going to get," he added.
JV T-Birds earning their wings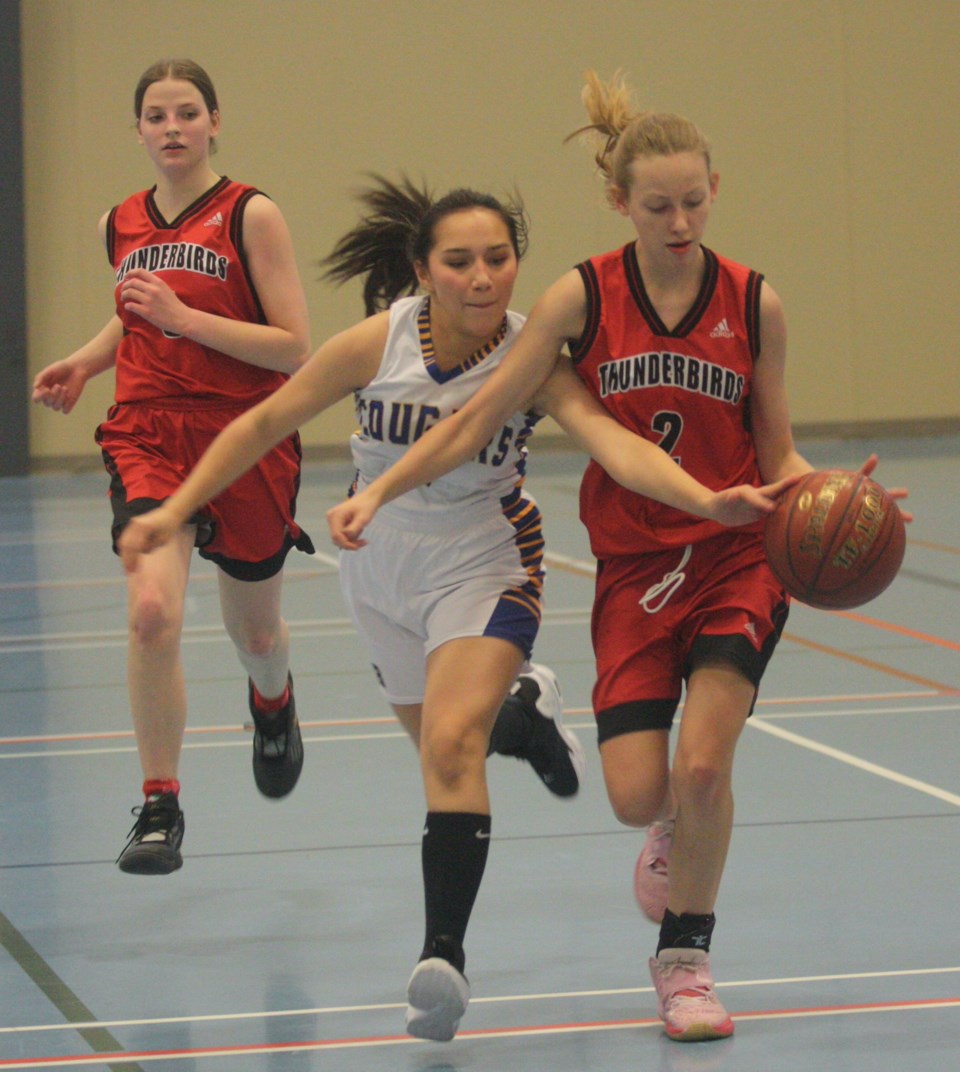 Across town at the 16-team 1A North Central Zone Ranking Tournament played at the Rotary Spirit Centre (RSC), the RFS junior varsity girls team went 0-3 versus the Breton High School Cougars, 62-14, Thorsby Junior-Senior High School Sabres, 36-26, and Drayton Valley's Holy Trinity Academy Tigers, 37-20.
Lane Ramey and Ben Ewasiw are in their first year of splitting head-coaching duties for the club and were also heartened by the progress their girls showed at the two-day event. The JV T-Birds, who are carrying 12 girls in Grades 10-11, have continued to gain confidence and refine their skills throughout the season and have already attended three tournaments.
"From the start of the first game this past weekend, to the end of the third game we were a completely different team. What's impressed me the most is their ability to listen and then apply what we've told them," said Ramey, who along with Ewasiw previously coached at the junior high level.
"They're a good group of girls and we're getting to the point in the season where they're starting to care for one another and there's a good family atmosphere around the team."
The club will host their own tournament Feb. 3-4 at RFS, then look forward to the JV zone tournament in Red Deer in early March.